Chapter 2
Weird Things
I don't go out of my way to particularly notice weird things but I must admit to being fascinated by them and what they imply. Most people are very dismissive of coincidences but I certainly like them and keep an open eye for such things. Here is a collection of some of the weird things that I've noted.
The Power of the Coincidence
The first is a story from a hard headed engineer who wrote a book called more or less "Great English Railway Accidents" and in it he relates an accident he experienced and the importance the coincidence played in this heat of the moment thinking.
I have the second edition which brings things up to date. In this edition he tells of an accident in which he was actually involved in as an unwilling participant. A train was travelling at speed from London to Bristol when he noticed that the train was travelling at speed on a temporary side track. He noted this and hoped that there was a fast change over from the temporary line back to the main line. Just then the carriage starts to violently shake and he realises that there isn't and the carriage starts to tip over. What is his thought in the heat of the moment as the accident unfolds? He thinks of the coincidence and not the obvious fact that he may be immanently be killed or injured but that, "me, who has even written a book on British train accidents am now actually in one myself". He is an engineer and doesn't play upon the obvious irony or the strange twists of the human mind. He lets it pass that in the heat of the moment it is the coincidence that has his attention and not the immediate danger to his existence.
Why is the coincidence so important to us? It has to be that our inner being feels isolated and alone and the hope and wish is there that God [or more correctly the goddess of fate] actually cares and even gives us a sign that our petty lives don't go unnoticed. The book is called "Historic Railway Disasters" by O.S.Nock and has been freely interpreted. One person was killed and a number were injured so it was a legitimate accident.
It's the weird things that trouble our mind and it is frequently these that we remember rather than a prozaic chronology of events.
The Local Town and its Secret Meaning
Gympie is the nearest town and it is common knowledge that the word is aboriginal for a local small tree that once was common along the banks of the river. The tree though is exceptional for its ferocious stings for anyone who touches the leaves. The word for this small tree is usually said double as Gympie Gympie. The tree does occur here on the farm but it isn't very common. I've been stung on numerous occasions particularly when I used to work for the Department of Forestry. A sting can be very painful and is not taken lightly. There are several bush remedies but I don't believe them. The best thing to do is to just leave it alone and eventually the pain will disappear after an hour or so. If however you bump the spot you were stung or experience coldness, the stinging sensation will return. This can go for up to nine months as I can testify.
There is though a deeper meaning of the word Gympie and that is that the word actually means Devil. To say Gympie Gympie is plural meaning Devils. The inference is that the plant has the Devil in it because of its terrible sting.
There are two weeds here that are also associated with the Devil and they are, Devils Apple, an attractive plant with an attractive fruit which is thought to be poisonous and Devil's Fig. Both plants are prickly and undesirable.
No wonder this deeper meaning is kept secret as it is just understood as meaning this stinging tree. With a town called Devil, no wonder weird things occur.
I'm always on the lookout for symbols and this is as essay on some of the symbols that I've found associated with my wonderful house.
Symbols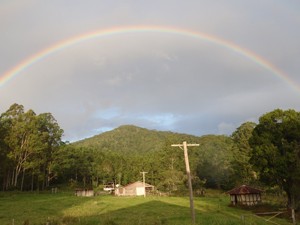 I am someone who is most blessed and gracious to live in a most wonderful house and in a most wonderful location. My house is made of timber in the Queensland style and was built in 1929. It is in need of a coat of paint but that will happen in due time. It has a sun deck on the eastern side to greet the rising sun with optimism and a protected verandah on the northern side for warm relaxing. I also love my wood stove, my grand piano purchased at a garage sale, my harmonium bought for $25 from a very old family friend, the wife of the former moderator of the Presbyterian Church of Queensland, and my 1911family heirloom piano. This was purchased new by an old relative who was professional musician, composer, music critic and raconteur. I even sort to learn to play the piano on this piano and I also taught my daughter to play on it as well.
I also appreciate the secluded location at the end of the road with mountains on three sides. I also feel the comfort of a healthy environment from all the trees I've planted to restore this formerly devastated landscape. I once had a dream and in it was an old book in a dusty corner titled, "Trees and the Working of Magic". Apparently, the magic is even stronger if you have planted the trees yourself. Food for thought as I've transformed the landscape there.
Although my property is only quite small [125 acs], I've discovered here several caves. Even as a 10 year old child and living elsewhere, I discovered a cave that the owner of land didn't know about. An owl flew out of the cave as I approached it for the first time and sat on a tree just outside the entrance. I've also discovered several very old and large trees here as well as a spring that keeps a gully permanently flowing no matter how dry it gets. This keeps my water hole in the creek always full. Truly miraculous and I am most grateful.
The mountain behind the house which dominates the view is sort of imitated by the hipped roof of the house. The slope of the house's roof is 30′. I've noted sun rise times and for three months of the year as spring and summer progress, the sun rises at 6am because the mountain slope is about 26′, the degrees of latitude south. On the solstice, the sun rises right behind the mountain peak. My own sort of powerfully symbolic stonehenge. This alliance seems to be so powerful that it has twisted the house around about 6 inches on its old stumps, it had a severe twisting lean on it when I purchased it, caused by cyclones I suspect, to align itself up more with the mountain peak and the solstice. A new set of stumps set in concrete have now stabilised the position.
I've also noted the sun set. As the sun dips below the horizon, it casts a shadow of a cross from the sash window onto the bedroom wall. I've marked the cross and the date and time. On the summer solstice, it just touches the pane of glass in the window on the northern wall.
On the 20th August, with the kitchen door closed, the sun as it sets casts a circle of light through the keyhole and onto the kitchen cupboard for a few minutes which I then marked. This only happens for a few days of the year. I then noticed that the circle of light is also cast in almost the same position for the 26th April but then that is what you'd expect except that the first date is my birthday and the second date is my grandfather's birthday, the one I'll mention in a later story. It also happens that my neighbour's grandfather's birthday is also the 26th April and his son's birthday is the 20th August. His father was born next door in 1929, the property they still own. The youngest son of the original owners, now an old man, very occasionally visits me. He told me that he was present by a coincident when the previous owner's wife died. She was standing at the above mentioned spot washing the dishes. She collapses laughing uncontrollably, is helped to her feet and says that she is alright and continues washing, she then collapses a second time laughing and is taken into the lounge and dies there. This is in front of the pane of glass in a window which the snake strikes that I'll tell more of in a later story. I was told that she was the actual owner of the farm. Her husband had a brother who was a lecturer at Queensland University in of all things, geography. I wonder what his land use thoughts were when he visited here. My sister's family is friendly with his son's family. The farmer's signature is under the house and so is the original owner's signature.
I've recently read a book called, "Memories and Visions of Paradise". It is about the myth of how humans once lived in Paradise and then experienced the fall due to the tree on knowledge and the snake. I certainly believe that I live in physical paradise and believe in the eventual restoration of paradise here on this earth someday. The future great sacred planet earth! My farm only actually came onto the market because of the death of the previous owner's eldest son due to death from snake bite. This is as told to me by my old neighbour. This now to me is a very sobering and symbolic though and also because I do come across dangerous snakes occasionally.
More on this later
I don't go out of my way to collect stories and weird things but they just seem to be brought to my attention.
I think that I live in paradise, they thought that they were living in hell.
One day I went to visit a neighbour and as I was walking up the hill, I noticed that the only hoop pine tree beside his house had a lean on it. I said to him, "That pine tree has a lean on it. Are you concerned about it?" His reply was that there was nothing to worry about. That night, the tree fell over right on top of his gas guzzling Chrysler Valient and totally wrecked it. What do I think of that?
For the last two years of my primary school, we used to travel either on the back of a truck or by a small bus [a kombi van] to the local regional school where we did manual training of wood work, technical drawing and metal work and the girls did cooking, sewing and home economics. One morning I remember we were delayed because there was an accident on the quiet country road. An Austin A40 car had collided with an unloaded timber jinker. It was even obvious to us that the timber jinker had jack knifed and had hit the car. This is a common problem with unloaded jinkers and it is why they are usually hauled onto the back of the truck when unloaded. When we got to school we were told by word of mouth that the lady in the car was actually a teacher at the school and had been killed. My two professions are first, forestry, and secondly teaching and to have the timber industry collide so brutally with the teaching profession is even now to me upsetting.
Another Weird Month "in the Pocket"
I live at a place called Cedar Pocket and so I call living here as being "in the Pocket".
Reality seems to give me a hard time and this last month has been even more unusual than most. A fresh whole fish appeared on my back deck. I suspect that this must have been accidentally dropped by a bird but it is a most unusual thing to happen. It was only small about 4 inches in length and would have come from a nearby creek.
Just a few days after this, just behind the house, I discovered a ghastly inverted echidna. I saw on the ground this flesh red ball like thing. Upon looking closer, I find that it is an echidna that has just the previous night been caught and eaten by a dingo. It must have grabbed its nose and then started eating it from there. Somehow the natural tensions of an echidna makes it invert as its insides are eaten out and what I found was the flesh coloured inner skin on the outside and all the spikes pointing inwards. It's in my shed if anyone is interested.
A few days later I'm in Gympie and I have a moment to spare before the opening of the post office. I notice a car with the number 999 and I casually remember the fundamentalist Christian who was in my staff room when I was a teacher. He had purchased a new car and it had the number plate number of 999. I asked him what did he think of that? He said that he didn't mind because if ever his car was inverted and the number becomes 666, the sign of the beast, it would have been the work of the devil and to be expected. I went to the post office and returned to the library car park and as I was driving out, I noticed the car in front of me with the number 666 and I think that that is a bit unusual, when I then noticed the car beside it with the number 666 as well, I start to wonder what is going on. I then drive to a friend's place just out of town and I happen to notice a just a very few number plates of only a very few cars, but what goes past but the number 222. Yes I was very careful with my work when I got there.
A lady visits me and we go to my shrine where she gives a little talk on spontaneous free speech and its challenges. During her stay, a sign is carved and hung which says "Normality Ends; Reality Begins". The day after her departure, a radio dramatisation starts written by Gertrude Stein, a famous Jewish lesbian, [same orientation as my visitor], written in the spontaneous style of the free flow of thoughts and its quirky story line.
My visitor spends a night sleeping in the lounge but the next night returns to her bed room complaining that the ticking off the clock is annoying and makes sleep difficult. The very afternoon of her departure in the morning, I return home and while winding the spring of this faithful and reliable century old family clock, the spring breaks and the clock is now very silent. A week of storms commences. One storm has the rare event of hail only, and no rain, while the sun is still shining. A hail only sun shower I suppose.
Another storm makes the electricity go off at 7pm after only about 6 hours of electricity supply from the previous blackout. It is 3pm the next afternoon when another storm is threatening and it looks as if there will be no return of electricity until at least tomorrow. I then telephone a friend who is coming for dinner and ask him to purchase a bag of ice to keep the fridge cold for another night. The storm comes and it is severe with huge hail stones. One I measure with my vernier calipers to be over 4 inches in diameter. What an experience it was being on the verandah while these huge blocks of ice come blasting out of the sky. The noise of the crashing on the verandah roof was deafening. My visitor tells me that it is the loudest noise she has ever heard. It is terrifying to think of being caught outside while these missiles are being fired. They crash into the concrete driveway skirt and bounce away or imbed themselves into the soft ground of the lawn. Luckily it doesn't last long and the onslaught is over. We go outside and collect a bucket full of ice and put it in the fridge. I then ring my friend again and say, don't bother purchasing the ice, as it has already been delivered and is now in the fridge. Yes there are a few dents around the place and even a broken pane of glass. The new verandah roof has 5 distinct dents, but luckily no broken glass or damage to the cars and thankfully my satellite dish still works.
The electricity was off for about 40 hours. The longest loss of electricity I've experienced here until it returned slowly. At first there was just an intermittent red glow in the light bulbs but slowly the glow increases to clear incandescence, the fridge starts to work and we are back to "normal"? We'll just have to wait and see.
The lady that I was married to had a car with the number 667. I never could quite understand the significance of this.
Post Script
I may be weird or pathetic and some things are best not spoken but I have to admit that on the day that I completed this little story, we were invited, even almost insisted upon to visit some lesbian friends in the evening. They claimed that another friend of mine who was visiting was one of theirs and they wanted to prove it. In fact they were wrong, she describes herself as being one of that uncommon and little know about group called the asexuals. Only one car went past and I couldn't help but notice as I waited for it to pass over the one lane bridge in front of me that it had the number 999!
The Finding of a Lost Ruby Ring, Against the Odds
I was going to visit Lee, a friend of mine and when I was making arrangements to visit, she said, when I come, could I have a look for her ruby ring that she had lost when she was throwing something off her verandah, the ring accidentally flew off her finger and into the wild garden below.
When I got there a few days later, we sat around having a talk over a beer and discussing how the search had been progressing.So far about 10 people had had a good look including someone with a metal detector but to no avail. I then told her some of my ring stories. Quite a few years ago, I found a large amethyst ring in the hall of my house. I had to do quite a bit of thinking as to who could the ring have come from. I decided it must have fallen off this man's finger who I had only met once or twice so I had to ring a mutual friend to make contact and find out that it had been his. He lost it and by the time he realized it was missing, he had no idea where it could be and so had not even bothered to contact me.
I couple of years ago, I was visiting my daughter in Sydney and was at Clovelly Beach when I looked in the sand a saw a silver ring with an interesting symbol engraved into it. I didn't know what to do so I thought the best thing was to leave it beside a post on the cement path beside the beach. I placed it there and was walking away from the area when someone came up to me and asked, the perhaps unusual question, "Had I found a ring?" To this, I answered "Yes, well in fact I had and had placed it over there, beside that post." The discovery of ring number two.
I then said to Lee and her friend, who by the way is an avid collector of art and antiques, someone who appreciates the potency of objects, that in fact, our eyes are not as good as we might think as we actually only see a part of our sight and really our brain just fills in the rest as it thinks it exists. I said to find anything lost, I think we need to make the psychic connection with what we are looking for. Lee told me its story ,how she had it made in India about 20 years ago, how she had lost it almost straight away in a tooktook but the driver looked her out and returned the ring. How she had recently thought that she has lost it permanently in the streets of the local town but found it a few days later in the vegetable tray of her fridge.
I then told of an old family gold ring and diamond my mother had given me when I got married for me to give to my wife, the lady I was marrying. The marriage occurred and the ring passed from me to her but unfortunately a few days later, she lost it but then again she found it a month or so later in the dirt under the house. Life progresses we are divorced and so things are forgotten but about a year ago or so, I asked my daughter had she seen this old ring? She didn't know anything about it but asked her mother what had happened to it. Unfortunately the story was the she hocked it a little while earlier for a few paltry hundred dollars without even telling me because for certain I would have purchased it back from her for obvious sentimental reasons. I know looking back, there was something in the marriage, at least from me, I though think that she thought almost nothing of me. She did though remarry and the day after she remarried, I cut off the side of my ring finger in a trice with a machette accident. There was a symbolic enforced severing as if ever there were any lingering attachments and need for such drastic action. Looking back, it seemed a bit unnecessary as they only lived together for a couple of months before the new husband returned home to the US, I'm sure a damaged man but she has probably totally forgotten.
To go back a little more and add a little extra, on the day I went to visit Lee, I also had to do a little shopping in the main street of the local town. There was an opportunity shop I went into just to have a look. In it I saw this old hymn book with music for one dollar and so I picked it up to have a closer look. It turned out to be from the very old and beautiful Ann Street Presbyterian Church. A church the government wanted to demolish for a carpark. Much had to be invoked from the little congregation to prevent this happening against an all powerful government. It turned out that the minister of this church was also the moderator of the church in Qld, lived two doors down from me when I was a youth. My mother knew the family from way back and although I did meet him a few times, I didn't get to know him well before he died. I then did get to know his wife and occasionally visited. She owned an old harmonium and I played this a few times for her. Eventually she died, and her daughter offered us this old instrument for a modest $25, an offer I accepted. The harmonium is now in my house here. I thought this was quite a coincidence the reuniting of an old hymn book from the church, the minister and his wife, and the old harmonium. Lee likes stories and so when I visited, with this newly acquired hymn book in hand, I told my story of how strange it was for me to acquire it and to delay a little the onerous task of what appeared to me, to find the impossible.
In due time, Lee and her friend set out yet again to find it with me the novice. Yes, I heard the story as to where it went, I did think where it could be and where no one had looked. My story starts out by saying I found it, and after just a few minutes looking, incredibly I did find it. I don't consider myself psychic, I don't have any special talents but I did find it and was the selfsatisfied hero at least for the moment. The ring has some value and was valued at something like a thousand dollars so the find was meaningful even in a materialist sense. My story though is more about the reason that events occur and the fulfilling of desires. Is there in here a deeper meaning through symbols as to an understanding of life and the bringing about of our life's journey. I do have other strange stories about my treeplanting life and how against the odds, it has come to fruition, the making of an environmentally correct way of living.
Postscript: In fact, now that I think about it, I do have a ring. It was given to me from a visitor who enjoyed her stay here as a reward and even a payment for her pleasure being here in the jungle. With her, the ring also has a history because it was given to her by a monk she met in Thailand and although I don't know exactly why other than she created a good impressed to him. The ring has a Buddhist aphorism written on it which unfortunately I don't know what it means. I keep it in a small wooded box a friend gave to me. The box is meant for the fulfillment of wishes.