Chapter 3
The Mysterious Bond
The love between dogs and humans seems to also be a source of unusual things. I have owned a couple of dogs and one in particular was Nell who probably loved me obsessively and here are some of her stories.
Nell and the Dead Koala
I've owned my farm for over 25 years now and I've never seen a koala here in all that time, although a koala was seen in the tree beside the house just before I bought it.
About two years ago when it was dry, I found a very dead and rotten koala in a dry creek bed. I had a shovel with me and I lifted it out of the creek with that. It was so rotten that its head fell off. I then took the head back to the house and was able to clean it out with the hose. It was so decayed that the contents of the skull and the fur all came off easily. I now had a koala skull which in actual fact I gave away the next day to someone who was interested.
The next day I decided to go for a walk "up the back" and Nell decided to come with me part of the way and then she thinks that it is too boring to go with me and so she decides to go and have a feed of dead koala. She is a natural scavenger and almost certainly hasn't eaten koala and is probably looking forward to tasting something new.
I come back to the house and after a little while hear a commotion going on and I decide to go and investigate. I go and have a look and see down on the creek flat my precious dog Nell being attacked by about 6 dingoes. I looked at them and they looked back at me. I take a moment to recognize something out of the ordinary. Initially my brain doesn't compute before I recognized what I was looking at. They all looked the same, largish, fairly young and quick moving and all red. I had never seen a dingo here and to see them all in this situation, all of a sudden was quite peculiar. In a second or two we each recognize each other and we each think that we are looking at the devil incarnate. I said to those dingoes, "Get to hell out here and leave my Nell alone", and they all left in a flash. I went and checked Nell out and she seems okay. I then went over to the dead koala and it was still there. I then helped Nell back to the house and looked at her more closely and I found that she was covered in bites including a large cut on her back.
The next day I went and looked for the dead koala but it was completely gone. All that remained was a few pieces of hair. I suspect that those dingoes came back during the night and ate that rotten old dead koala. A very dreadful meal, only for the desperate. I suspect that those dingoes would have preferred succulent dog to rotten old koala!
Nell is a tough cattle dog, used to bumps and knocks and makes a quick recovery, but I don't think that even to the present that she has ever eaten koala, fresh or rotten.
Just recently I had to bury the dog just down the road who was killed one night by dingoes and dingoes have killed quite a few other local dogs.
Nell eventually dies and yes in unusual circumstances and this is her obituary [obitchuary?]. This story is two stories in one. With in it, an unusual event occurred as I was editing and rewriting it several years after I had first written it.
Death of Nell, Part Human Dog
Nell was a dog of mine who has just recently died. It was Friday the 4th May, 2001. I had just picked up a visitor, Cornelia from Gympie and later in the morning we went for a walk up to the cave. Nell and the two other dogs [Elkins and Zest, two city dogs belonging to my daughter Emily who are having a country holiday with me], came all the way to the cave. This was a bit unusual for Nell who for the last few months had only been walking to the steep rock just past the big tree and waiting there for my return, but this time she probably came a different way because since Geli's father [a friend of mine who lives just down the road, has an 87 year old father] wants to walk to the cave, I've made the track a bit easier by having a new deviation bypassing the big rock and Nell must have noticed it as she followed slowly behind. She stayed at the cave as we walked on to the lookout. On returning to the creek, I noticed how slow she was and so I carried her back some of the way. We then walked back to the house and Nell followed along slowly behind. That night she ate dinner normally but on Thursday she was in a bad way. In fact one time during the day, as I walked past her and gave her an affectionate pat, she didn't immediately respond and it took quite a few moments to wake her from her deep sleep. On Thursday I had to take some photos for a talk I have to give on Friday week, in Gympie to a group called The International Wood Collectors Society and it will take 3-5 working days to develop the slides so it will be a bit of a rush to have it done on time. By Thursday afternoon I decided that because she was in such a bad way that I'd have to take her in to Gympie on Friday when I have to deliver the films for developing and Cornelia has also decided that she would like to depart as well. Thursday evening, I carried her up stairs to sleep on the verandah. That night for reasons I don't understand, she twice takes herself downstairs and I have to carry her upstairs each time.
Unfortunately on Friday morning a school rang and I had to go to school (only the second time this year). I very occasionally go to school as a relief teacher. The plan was to come home, collect Nell and take her to the vet. The vet I'm sure would certainly have said that there is nothing to be done and all he could do would be to put her down. I wouldn't have done it as she didn't appear to be in any pain but just with a poor ability to move herself. I probably would have left it a few days until it appeared necessary.
Driving home along Deserio Road, Nell's collar falls mysteriously [just at this very moment I have to have to interrupt the main story. Nell has died now almost three and a half years ago and I'm at last rewriting this little essay. Kay from next door arrives now and, I put down my pencil and she tells me that their dog Gyzmo has just died from snake bite and would I please come over and help with his burial. Naturally I agree to do so. He was last seen asleep under his favourite shrub beside the house. Ten minutes later, he is discovered dead having rolled out from below the bush. Kay did hear a few whimpers but didn't investigate. Now at this moment, Gyzmo is dead, at nine years, and now with Nell in dog heaven. Dogs give their lives so willingly to save their masters and mistresses lives. How tragically weird, that Gyzmo should die at this very moment and on the very word of "mysteriously". Nell and Gyzmo were not really good friends but were nevertheless very familiar with each other's lives. Nell's attitude to Gyzmo was "spare the bite and spoil the pup" while Gyzmo just thought that Nell was a "bad tempered old bitch" which I suppose was true and that if all female dogs were like that he would have nothing to do with them. Gyzmo was very sensitive and would hide under my bed whenever there was any loud noise particularly thunder. Now back to the main story before this unsettling and weird interruption] drops out from the bench below the glove box on the car's dashboard and I notice that the odometer is reading an ominous 170707. I arrived home about 3.30 and she was already dead on the verandah where I had left her just outside the kitchen door. I sat beside her for a while thinking what I would do and the faithful and beautiful dog's life that she had lead . Kay arrived about an hour later and I told her what had happened. A whole rainbow appeared over the eastern sky and even a second rainbow could just be seen above it. I went and dug her grave. It is just above the dam and on the southern side below the maple. I came back and told Geli who is having a Buddhist retreat this weekend at her ashram She said to leave Nell's burial until the morning and I did so. At about 7pm the power goes off and doesn't come back on. At 4am, a electricity truck turns around at the house and 10 minutes later, it returns. This time I talk to the linesman about where the fault could be that they cannot find. It is strange going out and seeing Nell lying there. She looks alive but is quite dead. As soon as it is light I take her in the wheel barrow and bury her. It is the time to do it. I decide that in the next few days or perhaps after winter, I'll plant a maple there with a little fence around it to protect it from the cows and hopefully it will do well. Elkins decides not to attend the funeral and Zest, has an attack of screwlooseness at the last minute and runs into the bush chasing phantoms. I lay her on her back facing upwards and looking like a baby human before covering her and saying my final farewell. A few hours later and the electricity eventually comes on.
On Saturday morning I decide I will go and plant a tree above her. I have a smallish Queensland Maple and hopefully it will survive the winter and the risk of frost. I plant the tree and build a cow proof fence around the grave for protection from the cows.
Sunday morning is clear and I decide to remove Nell's name tag from her collar and to place it on a picket at her grave. The morning is clear and sunny and as I walk to the grave it becomes cloudy. While there some cows come to visit, is it our of respect, but Zest doesn't think so and tries to bite one on the nose. Clouds blow up, there is thunder and in a moment it is raining. I walk back to the house in the rain. The passing of a great dog and the elements acknowledge her achievement and we hope the passing from one kingdom to the next. May I list some of her achievements? Singing to a hall full of people at a concert where a patron describes her performance as being the best act of the show. Singing on the radio, and being recorded and her performance being repeated several times. Being photographed in colour on several occasions, for the local newspaper, three times in a nationwide magazine and even a colour photo on the internet yet being tragically and ironically a black and white dog. All this fame though was handled with modesty and humility. She was obedient, intelligent, courageous, and with a warm disposition and great understanding of words and yet all this with only half of her brain. The other half of her brain was occupied with only one thought and that was to bite cows. Nell was an Australian cattle dog. What dogs they are devoted, intelligent, obedient and loving. We deeply regret her passing at 14 years.
Several years later the 4th May comes up again.
Three Dogs
Three dogs used to live next door to each other in a little cluster of houses at the end of country road, Nell, Gyzmo, and Chopin. My dog Nell was very clever and dog famous. Singing in the local hall to an audience, singing on the radio, a colour photo in an Australia wide magazine and the local newspaper although ironically and tragically being a black and white dog, yet a very loyal and affection rough and tumble cattle dog. Gyzmo, the youngest of the three, is also very clever but a bit of a whimp when it comes to cattle but he thinks of Nell as just a bad tempered old bitch. Her attitude to him is to spare the bite and spoil the pup. Chopin, loyal and faithful to his mistress and her daughter but probably a bit socially inept.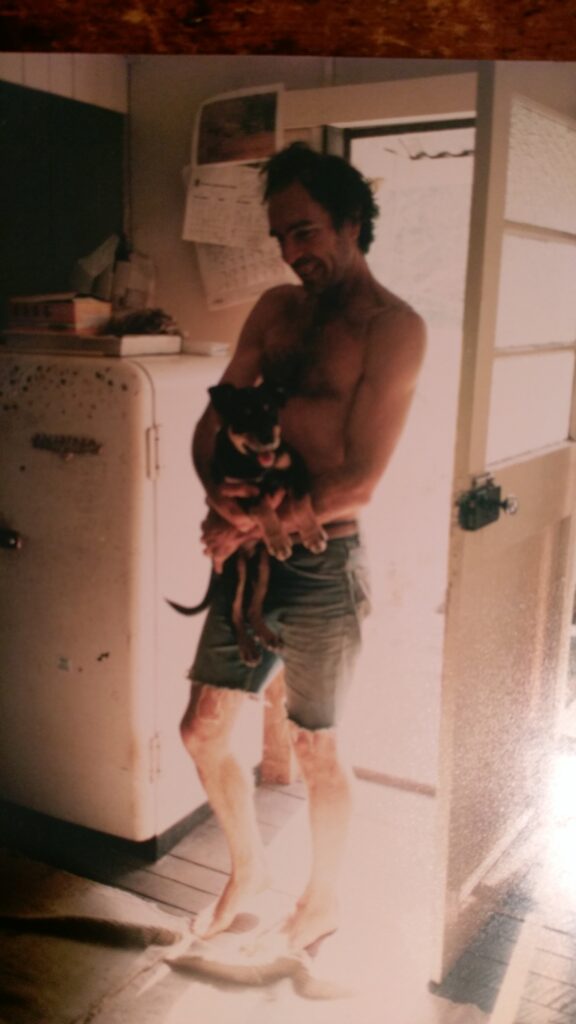 Nell dies on the 4th May, 2001. She has had a long and happy life and although her death is tragic, it is quite natural and unavoidable. I then send an email to my daughter telling her of the death of her dog, I call it, "The Death of Nell, part Human Dog", where I also reminisce on her achievements and the unusual circumstances surrounding her death.
I write a few short stories and about 4 years later, I decided to pull out this email and edit it. I am actually rewriting by hand a few sentences and have just written the word, "mysteriously" when I hear a 4wheeler arrived at the house. I put my pencil down at this exact word and go outside and meet my neighbour and she tells me that their dog Gyzmo, has just died from snake bite and would I please come over and dig his grave and officiate at his funeral. I do this immediately.
This year on the 4th May, the fifth anniversary of Nell's death, I receive a telephone call from my other neighbour, although she has now moved a little further away, to say that Chopin is just about dead and would I please dig his grave to bury him here. He dies and is later buried this day.
Weird Eh? The mysterious bond between humans and dogs.
Looking at Nell
A lady was visiting me and after being here for a while looks at Nell one day and just says out of the blue: "For some reason, whenever I look at Nell, I always think of Meg". Strange to say but the name given to her by her puppy owners gave her the name of Meg. Robyn and Emily decided to change it to Nell when they chose her from the litter. It was only many years later that they told this to me.